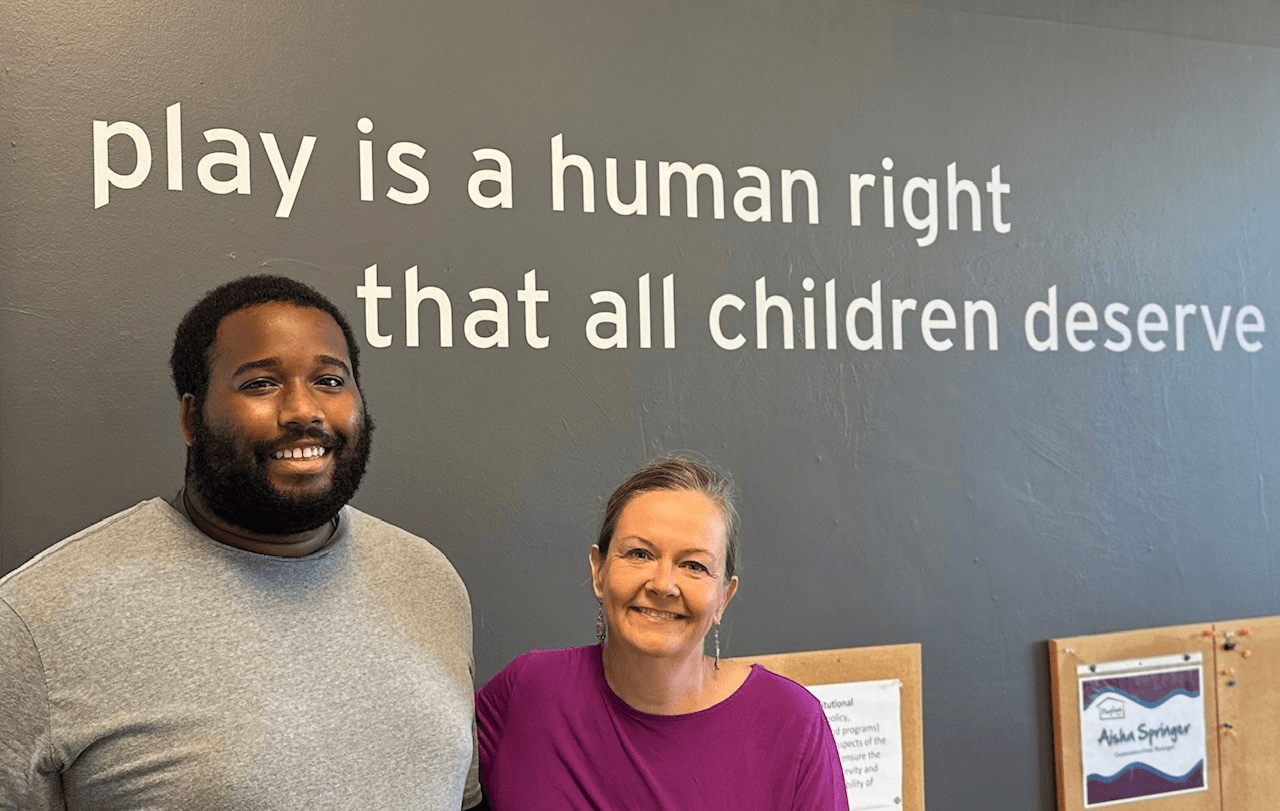 Playtime Project just wrapped up back to school programming for the young children in our programs, including handing out backpacks with school supplies and hosting parties to generate excitement for the upcoming school year. One of those backpacks we set aside for an extra special student; Playtime alum, Kamari Felton.
Kamari was part of Playtime's Teen Program at the now-closed DC General shelter for two-and-a-half years between 9-12th grade. We spoke with him just as he was getting ready to head off to his freshman year at Frostburg State University—or so we thought. The day before he was set to leave, Kamari got some upsetting news from the university regarding his financial aid, which you can read about in this Washington Post article. Due to his homeless status, he was ensnared by bureaucracy, leading us to turn to media advocacy as the fastest way to get him on that campus where he belonged. Within hours, Petula Dvorak's column attracted so much public support for Kamari that his aid was reinstated. Plus, a reader started a GoFundMe to help cover other school and living costs. We're so happy to report that Kamari is now at Frostburg State getting settled into college life!
* * * *
Kamari remembers when he learned about Playtime's Teen Program at the DC General mega-shelter. He was living on the fourth floor with his mother and brothers when he looked out the window and saw young people playing football. He loved sports, so he went outside to join. Afterwards, he spoke with Playtime volunteers, including some that he keeps in touch with to this day. Kamari told us, "I've always been a quiet person and the Teen Program helped me not be as antisocial. I never felt uncomfortable. They made me feel comfortable." Kamari recounted many fond memories of Playtime's field trips during that critical time in his life: seeing "Black Panther" in a theater, playing laser tag, Halloween parties, college tours. Throughout it all, he was building his own village, a network of social capital that he would tap into long after the shelter closed.
Between spending his formative years in the notorious shelter and being bullied in high school, the Teen Program provided relief. Still, life at DC General was taxing. Kamari recalls, "As the oldest child, it was hard to see [my mom] go through that. I did my best to help my little brothers. I saw how people living in the shelter deteriorated." Kamari wanted to go to college right after high school, but chose to put it off so he could work to help his mom and brothers. Later, while living in transitional housing, he received help from counselors, his case manager, and Leah Gage, a former Playtime volunteer, with applications, interviewing, references, campus visits, and all that goes into applying to college.
Bearing witness to so many suffering from poverty, addiction, and mental health challenges inspired him to study psychology at Frostburg State. He cares deeply about helping anyone who needs it and is especially committed to destigmatizing mental health for Black men. Kamari told us, "I've seen from experience that trauma that builds up eventually comes out. Friends have come to me because of suicidal thoughts; they didn't care about life anymore, and I talked them down." Kamari wants to arm his passion with a degree "to know what I'm doing and be qualified."
Kamari's inner strength and self-determination is clear to us, but he first gave credit to others. "The volunteers more than anything played a big part. I had to rely on myself a lot at a young age and I don't like to ask people for things, so I'm grateful when people help." The first thing he did when we got his first paycheck was to send money to Emily Patrino, one of the Playtime volunteers, to pay her back for always helping him. She wouldn't accept it. "She always told me I'm so much smarter than I think, that I have so much potential."
Playtime volunteers are just as fond of Kamari. Isaiah Coleman started volunteering with Playtime's Teen program when he was a second-year medical student at Howard University. He volunteered until DC General closed, but stayed in touch with Kamari, taking him to play basketball and keeping him encouraged along his path. "Sometimes when people see him, they may see the stereotype of a bigger black man. Then you talk to him and find he's super kind, one of the dopest people you've ever met. He's got emotional IQ. A lot of the other teens looked up to him; he helped them stay on the right track. I saw his leadership skills even as a teen."
We want all of the 288 children and youth we sent off to school with backpacks this year to feel like Playtime has their back. Being able to help send one of our own to college is such a thrill. What an honor to reconnect with Kamari and bear witness to his resilience and determination to make his college dream come true. At the end of our conversation, we asked Kamari what he thought about our plans to bring back Playtime's "continuum of care" programming to support families beyond their shelter chapter. "I think that's really important," he explained. "Sometimes young people just need someone to walk with them across the finish line."
In addition to play programs, Playtime's Family Emergency Fund helps provide practical necessities like school supplies, transportation gift cards, and household essentials to help children and families get back on their feet. Donating to Playtime's general fund gives us the most flexibility to distribute funds where they are needed.