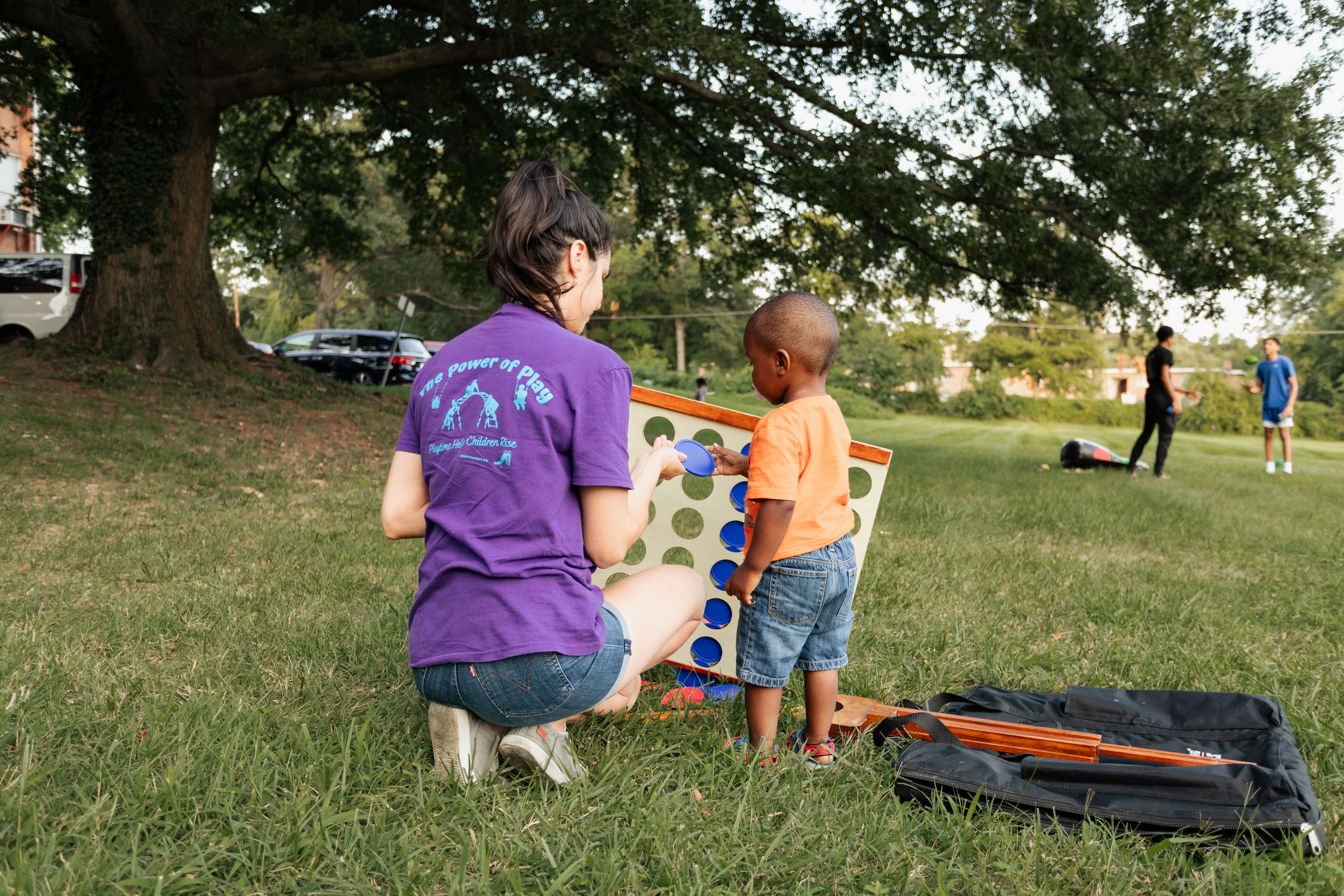 One of Playtime Project's most exciting areas of growth over the past few years has been its expansion into Prince George's County, Maryland. Previously focused within the DC city limits, we saw the need for our services in the county and made it a priority to reach out. Now, in Playtime's 20th year, we are serving children and families experiencing housing insecurity and homelessness at four program sites within Prince George's County, accounting for half of our total programming.
Why is this important? The numbers speak for themselves. The county has some of the highest levels of homelessness in the DC region, and even in the country. According to a recent Metropolitan Washington Council of Governments (COG) report, the number of people experiencing homelessness in Prince George's County has increased by 47% between 2019-2023. That is the highest increase in the DC area. Plus, this statistic only accounts for "literal homelessness," meaning it does not count those who are staying with friends or extended family out of necessity.
Currently, Playtime program sites include the county's two family shelters, one community-based site (partnering with Free Art for All), and the county's only domestic violence shelter. It's important to us to meet families where they are, which is why we provide services at this diverse mix of locations. This helps us connect with and offer resources to families as they move through the stages of getting back on their feet—what we call the "continuum of care."
Bryanna Beamer, Playtime's Prince George's County Program Manager, tells us, "Some of the families who participate in Free Art's programming are former Playtime families who have moved to permanent housing nearby, as the space we use sits within a mall next to an apartment complex where many of our shelter families move. Many who move out of a shelter lack access to resources that could help stabilize their situation or improve the lives of their children. I have had parents ask for references to lawyers, transportation assistance, childcare, tutoring, and everything in between." We provide direct support when possible, as well as refer families to other resources in the community.
We know this extension of services makes a difference because families tell us themselves. A single mother of three autistic children ran into bureaucratic and language barriers trying to get her children assessed, so we connected her to a resource who was able to help her. She then asked us for fall and winter clothes and diapers. Within a few days, we were able to deliver what the family needed. "She was very thankful," explained Kevin Chavez, one of Playtime's skilled Bilingual Program Coordinators.
Providing services in Prince George's County presents challenges that are different from those in Washington, DC. According to Bryanna, "The biggest challenge I see in Prince George's County is that the families and kids don't feel as connected to the community. Transportation is limited, the hotel shelters include both hotel guests and shelter residents, which means kids don't know who they can hang out with today and expect to see tomorrow."
Knowing this, Playtime works strategically to do outreach to families rather than waiting for them to find us. Going forward, we will build on our efforts by increasing our Prince George's County-specific volunteer base and becoming more integrated into the communities we serve. We look forward to all the exciting developments to come for our programs and families in the county!
Interested in volunteering to support Prince George's County families? We always welcome new Play Rangers to work directly with children in our programs and Volunteers in Motion to assist with transportation. Learn more and register for a volunteer orientation here.