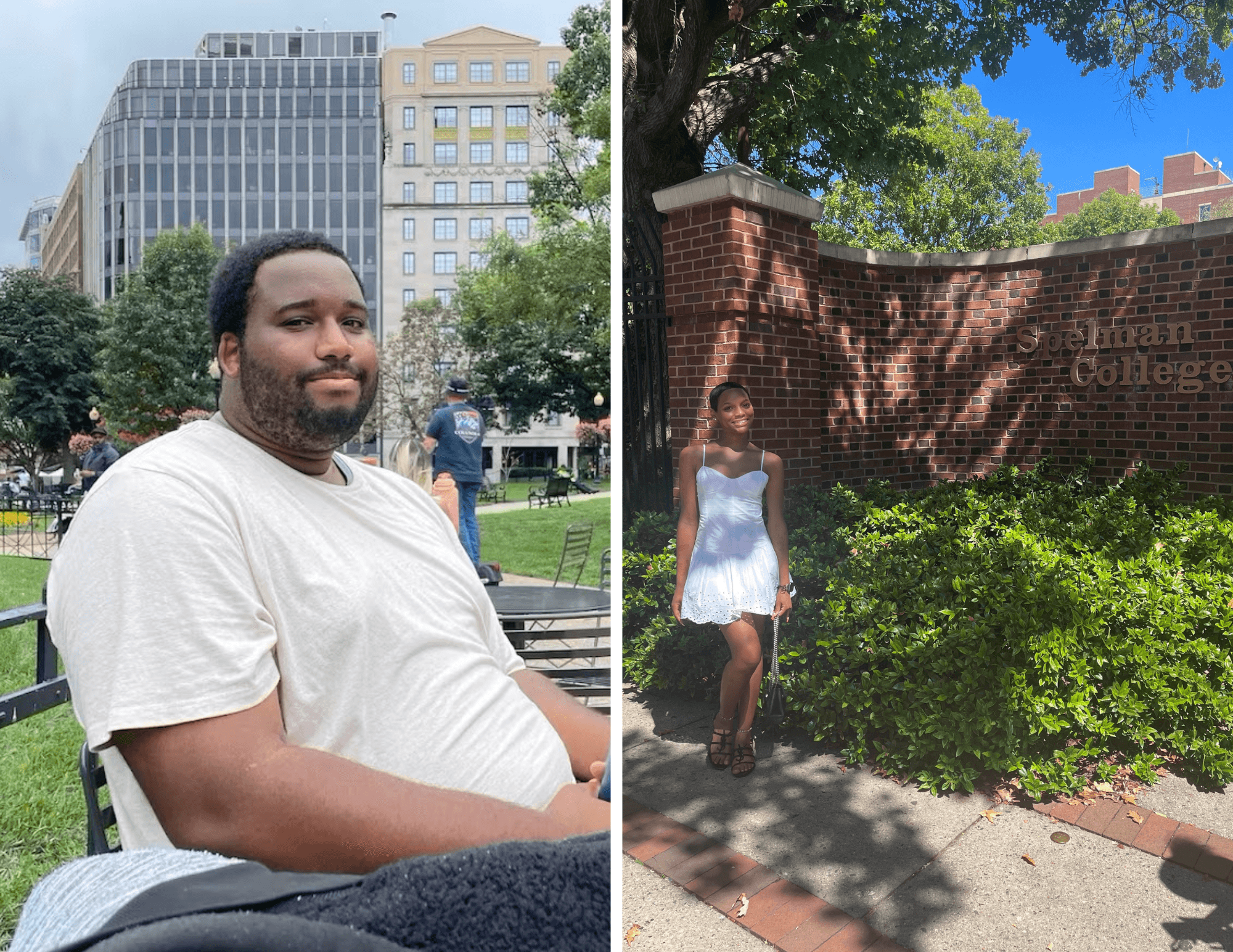 We love seeing the joy, excitement, and development over time of children in our play programs. All our programs are meant to encourage the skills and mindset children need to rise above housing insecurity and grow into happy, healthy, and productive adults.
As we enter the holiday season, Playtime is so grateful to have reconnected with two former Playtime children who achieved this goal and are now college freshmen. Kamari Felton attends Frostburg State University and Nyla Slye is a student at Spelman College. Kamari and Nyla were enrolled in Playtime programs while living at the now-closed DC General (DCG) shelter. Read more about Kamari's story in the Washington Post.
Nyla was eight years old when she moved into DCG with her mom and little brother. She recounts fond memories of playing with other children and volunteers. "In the summer we went out behind the building, blew bubbles, and that's where I learned how to hula hoop." One day, she ate fruit despite being allergic at the time. "Seeing the love and eagerness [from the other kids] to make sure I was okay really stuck with me."
Nyla credits Playtime with helping her improve her communication skills. "I was shy at the time—I lacked the skills to hold conversations with people my age. It was hard to build friendships and trust friends. With help, I was able to form those skills; little things like saying 'good morning' and having conversations."
Kamari was in the Teen Program at DCG and also has joyful memories. He remembers a field trip to watch "Black Panther" in a movie theater, a visit to UVA, and Playtime's famous Halloween parties. Kamari loves sports, which is what first drew him to the Teen Program. He grew close with volunteers like Isaiah Coleman, Sr., because of that shared interest. Kamari recalls, "Isaiah invited me to play basketball with some of his friends after Teen Night. I didn't have the right shoes or a ride, but he said to find the closest Metro and he'd pick me up. A friend [of Isaiah's] let me borrow basketball shoes."
Since then, Kamari has kept in touch with Isaiah and other Playtime volunteers along his journey. Nyla clicked with a volunteer named Quay who she describes as "young and full of life." Additionally, as a Black woman, Nyla could identify with Quay in ways she was not able to with other volunteers. She remembers when Quay visited Africa and came back with gifts and stories for Nyla and her brother.
Nyla and Kamari's families encouraged them to go to college, but they didn't have the resources. Nyla said, "I had a support system, but not for details like financial aid." Two of Nyla's teachers helped her apply. Kamari credits three Playtime volunteers for helping navigate the college application process from college visits to securing aid. Anyone who has applied to college knows there is a learning curve—no one knows all the ins and outs alone. As Kamari says, "People don't need a handout, they need someone to walk with them to the finish line."
Kamari lives by the quote, "A fool learns from his mistakes; a wise man learns from others' mistakes." He credits his introspective nature as one reason he stayed on the right path. He observed those around him and avoided making their mistakes.
Nyla reflected, "A lot of kids take on the burden, but they're just children. It's not your battle—still be a child in your own way. You may not be able to go to Disney World or have the best Christmases, but try to make your childhood yours. There are good experiences within the struggle." She added, "You're more than your situation. You won't be in this predicament forever. Speak it into existence."