Becca Altmeyer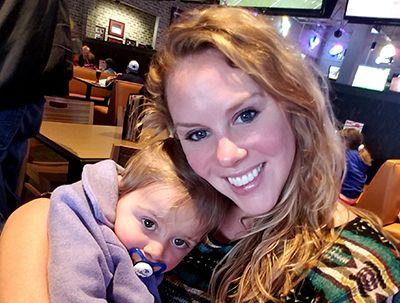 With less than a year as a Play Ranger, Becca Altmeyer is already making a huge impact on the children we serve at Turning Point Center for Women and Children. She joined us as a volunteer in January 2018 and has an enthusiastic spirit for every activity, says Site Manager Tora Burns, who nominated Becca for the recognition.
Becca became a favorite volunteer for one five-year-old boy who had been unsure about coming to program, but would run into Becca's arms as soon as he arrived.
"She helped ease some of his apprehension about coming to program," said Tora. "She has such a calming spirit when working with the children and offers support whenever it is needed. She also donated a bunch of balls to program when she realized that ours were missing. She is a joy to the children, the other volunteers, and the playroom in general."
Why did you initially get involved in Playtime? 
For months I had been scrolling through volunteermatch.org, trying to find an organization/cause to become involved with. I was having trouble as I didn't want to just volunteer for the sake of volunteering; I wanted to find something that I connected with, something that I truly valued. That's when I came across Playtime Project. After looking through the website for five minutes, I knew it was for me. I have always loved children, I just click with them (I think it may be because I enjoy and value "play" as much as they do). I can honestly say that my decision to volunteer with Playtime Project has been one of the best decisions of my life!
How has volunteering with Playtime affected you?

I used to absolutely dread Mondays as they mark the end of the weekend and the beginning of the dreaded work week. Volunteering with Playtime has changed this perspective. I now look forward to Mondays as that's the day of the week I get to spend at Playtime. Where, in addition to the children playing, I get a chance to have fun and play, too. To enjoy myself outside of my daily routine of work, sleep, eat. Where I get to spend time with amazing, energetic, and genuine children and volunteers. I cherish every second at Playtime. It has made me a more understanding and patient person, but most importantly, has brought a little more joy into my life.
Share a memorable moment as a Play Ranger.
I don't even know where to start! Every moment I spend with the children is memorable. But if I had to narrow it down, it would be when I was playing trains with one of the children and he suddenly stopped, looked up at me, and said, "You are my best friend, and we are going to be best friends forever!"