Becca Eastwood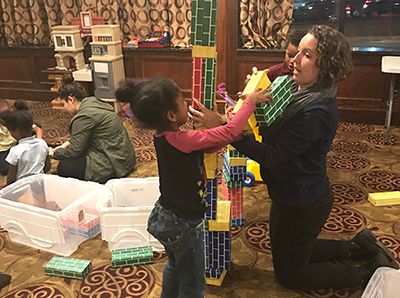 Rebecca "Becca" Eastwood joined as a volunteer when Playtime was testing a possible program at the Days Inn a few years ago, then she returned when Playtime launched at the Quality Inn shelter site in January 2017.
"Becca Eastwood is a wonderful and dedicated volunteer," said Tiesha Edwards, Site Manager at the Quality Inn, in her nomination. "She shows genuine interest in learning strategies to work with the children we serve, by asking questions and trying various methods to connect with them. She stepped up as Site Coordinator and did an amazing job making sure program ran smoothly while I was on vacation. Becca is an excellent model of what a volunteer should look like, and I enjoy having her on my team!"
Why did you initially get involved in Playtime?
I first heard about Playtime through my church. I was really moved by the mission of the organization. I value working with children, and Playtime sounded like a meaningful opportunity.
How has volunteering with Playtime affected you?
Playtime has been a regular part of my life for awhile now. Some weeks I'm tired or stressed but I always walk away from a night of Playtime feeling grateful. Playtime has taught me a lot about trauma, patience, and commitment. I've experienced moments of joy with the kids and worked through moments of struggle. It's all worth it. I've been humbled and challenged, met lots of wonderful people, and felt like a kid again myself.
Share a memorable moment as a Play Ranger.
My most memorable moments at Playtime often happen during reading time. It's one of my favorite parts of the night. Recently a number of the kids discovered a book they all loved, and we read it over and over, with each child adding their own interpretation of the text. They were very creative! It was one of those moments of connection and joy.
What else do you want people to know about your work with Playtime?
Volunteering with Playtime is a roller coaster – it is both rewarding and challenging. Sometimes it feels like such a small thing in the face of such large structural problems, but when you see how excited the kids are that it's Playtime night, it seems anything but small.