Cara Baldari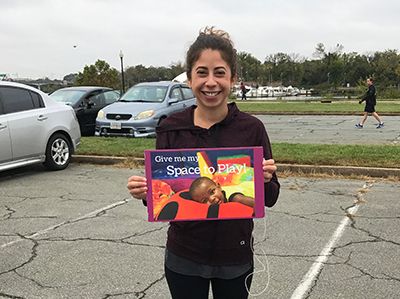 April's Volunteer of the Month is Cara Baldari, who volunteers at our partner site, DASH Cornerstone Transitional Living Program. She has been a dedicated Play Ranger since May 2016. She also helped raise funds for and ran in our Heroes of Play 5K event last October.
Site Manager Tora Burns made the nomination and had this to say: "Cara is truly amazing. She worked with a parent in conjunction with her child's school to help her daughter become involved in the Girls on the Run program."
Why did you initially get involved in Playtime?
During the day, I am an advocate to improve federal policy for children and families, and I wanted to make sure I was also helping to improve the lives of children living in my own community.
How has volunteering with Playtime affected you?
The resiliency of our kids definitely inspires me. Anytime I am feeling defeated by the current state of our country, being with the kids reminds me that it will all be okay, because they are our future! But we need to do right by them and give them every chance to succeed.
Share a memorable moment as a Playtime volunteer.
One of my favorite memories is helping a child learn how to swim for the first time. It was exciting to get to watch her improve, and see her confidence grow.
What else do you want people to know about your work with Playtime?
Encourage your friends to get involved! We could always use more volunteers, and they will really be making a difference in children's lives.