Lauren Conley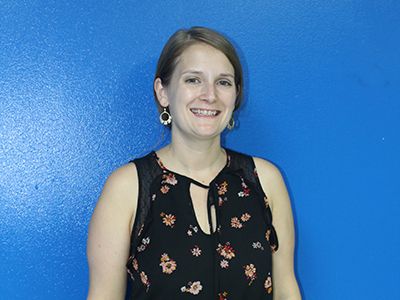 Lauren Conley is one of our long-time Play Rangers, having joined Playtime in December 2011 when she was living on 19th Street, only a few blocks from D.C. General. Ron Sheffer, Site Manager, and Kathleen Fawcett, Site Coordinator, nominated Lauren to recognize her years-long dedication to the children we serve.
Here's what Kathleen said in her nomination: "Lauren's commitment and dedication to Playtime has been unwavering. For the past several years she has helped to lead Halloween costume distribution, spending countless hours coordinating, ordering, sorting and distributing brand new costumes that each child requests. Her skills in classroom management as a DCPS teacher have brought organization and joy to the playroom over her many years of service. Each time volunteers are needed to staff special events, drive items from our main office to D.C. General, or to spearhead our many holiday parties and events, Lauren steps up to the plate and makes everything a success."
Why did you initially get involved in Playtime?
I got involved with Playtime after a year of service in Baton Rouge, La., with City Year. I had just moved to D.C. and started working as a special education teacher on Capitol Hill after serving at an extremely high-need school in Louisiana. While my school was an amazing place for a first-year teacher, I knew I wanted to work with children and families that were not as lucky as my students.
How has volunteering with Playtime affected you?
Playtime has given me the opportunity to engage with amazing volunteers, families and children. It has given me a passion for affordable housing and other issues that plague our most vulnerable families in the District, and has provided me with some amazing friends that share my dedication. My weekly time with Playtime encouraged me to change schools, and I now work at one of the District's most high-need elementary schools.
Share a memorable moment as a Play Ranger.
The best part of Playtime is watching children grow socially and emotionally week to week. One child in particular came to us speaking very few words, and had a lot of aggression toward other children. After assigning this child a dedicated volunteer who could provide positive feedback and help with social interactions, we began to see slow and steady changes. Eventually, the child no longer required a one-to-one support and could play peacefully (with occasional supports) with the other children at our program.
What else do you want people to know about your work with Playtime?
Volunteering with Playtime is a constant reminder of the inequity in Washington, D.C. At the same time, it is a reminder that kids are kids, no matter what their housing situation is, and all kids deserve a place to play. As we transition from D.C. General to various shelters across the city, I know that Playtime will continue to keep these families' interests at heart, and am so proud to volunteer with an organization that truly puts these families' needs first.