Dr. Diane Jacobstein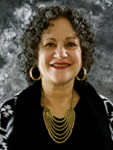 Diane M. Jacobstein, PhD is a Clinical Psychologist in the Georgetown University Center for Child and Human Development-UCEDD and an Adjunct Associate Professor in Pediatrics. She retired from Georgetown after more than 40 years on faculty and continues to teach part-time.
Dr. Jacobstein has extensive experience as a clinical supervisor, therapist, diagnostician, and trainer in early childhood settings. She was a consulting psychologist and early childhood mental health consultant for more than two decades in a Head Start/Early Head Start program that serves families in unstable  housing, and participated in several other initiatives related to young children living in DC shelters. Her national policy work involved technical assistance and consultation for states and communities hoping to improve their services for children and adults with developmental disabilities and associated behavioral health concerns. She served as psychologist in Georgetown's Autism and Communication Disorders Clinic, and in a variety of medical and community settings, including the Pediatric Mobile Clinic, adult developmental disabilities programs, pediatric cancer and renal disease teams, intensive care unit, a general pediatrics practice, and schools. Dr. Jacobstein has a special interest in trauma-informed care and in public policy related to developmental disabilities and under-served communities.