Dr. Geoffrey Mount Varner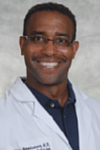 Dr. Geoffrey Mount Varner obtained his MD from Wayne State University School of Medicine in 1990, after completing his BS in mathematics at Hampton University in 1989. Following the completion of his doctorate, he attended the Harvard University School of Public Health, where he earned his Masters in Public Health with a special focus on health care management and finance. After graduating, he obtained an internship in internal medicine at the George Washington University and later went on to become the Chief Resident in emergency medicine at Howard University Hospital in Washington, D.C.
Currently, Geoffrey is an Assistant Professor, attending physician, and Chief and Interim Chairman at Howard University Hospital, where he focuses on emergency medicine. Since January of 2010, he has also served as the Medical Director and Assistant Fire Chief for the Fire and Emergency Services in the District, where as one of six executives, he is responsible for overseeing the correct execution and completion of EMS training and protocols for medical treatment for a staff of over 2,500 paramedics and firefighters.