Donate Goods for the Holidays
Spread joy to more than 400 children this holiday season by supporting Playtime's Holiday Drive!
During the holidays, you can provide a sense of normalcy for children living in temporary shelters by helping Playtime give gifts to each child in our programs. Purchasing items from our Holiday Amazon Wish List will provide last-minute presents for children and families who arrive to Playtime's partner shelter sites in December, as well as help stock our new playrooms in 2020.
---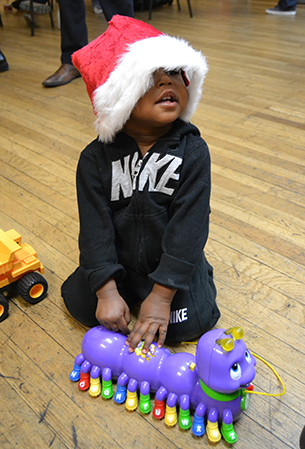 We could also use help in a few other areas this holiday season:
Collect pull-ups and wipes, which are in high demand by the families we work with year-round.
Donate a brand-new set of pots and pans.
Hold a donation drive for new baby teething toys, sippy cups, stroller toys, and baby floor gyms.
Please email Rebecca Staple at: admin@playtimeproject.org if you'd like to participate in one of the above options. We cannot accept gently used or other in-kind donations without prior approval due to space constraints at our program sites and office.
---
Donors can also support our year-end fundraising campaign to help fund our goal to reach more children as Playtime partners with more shelters across the city.
Items We DO NOT Need:
Stuffed animals
Used toys, books, board games, or puzzles
Broken or incomplete toys
Used clothing or uniforms
Please consider donating any clothing items at a MetroAid Bin near you. MetroAid gives a portion of funds raised through sourcing and selling donated clothing to Playtime.
Playtime's office and programs will be closed starting Friday, Dec. 20 through Wednesday, Jan. 1.