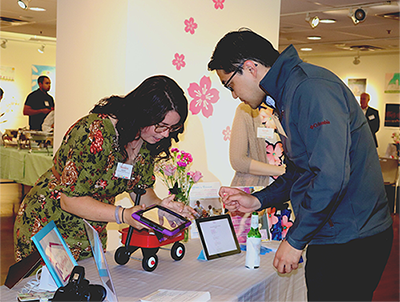 We are enormously grateful to all who made our spring campaign a huge success! So many of you supported Playtime through the "A Community Thrives" program, sponsored by the USA TODAY NETWORK, which challenged nonprofit organizations across the country to raise funds for a chance to win money for their programs. And you came through, helping us raise $6,075 and making us eligible for an additional $25,000 grant. 
Then we hosted our Spring into Playtime event on April 23 at the Pepco Edison Place Gallery where we honored Ford's Theatre for the amazing year-end "miracle" donation that was raised during the "A Christmas Carol" production. Michael Bunce, one of the actors from the production, accepted the honor. We also recognized Dr. Cynthia Greer of Trinity Washington University, who has been a long-time partner and volunteer with Playtime. And we heard from a former Playtime mom, Tyranja Jackson, who shared how much Playtime helped her during her time in a shelter. Read her story.
Many thanks to photographer Michelle Poch, who volunteered her time to take some fantastic pictures.
So many of you joined us to celebrate, and you contributed almost $4,000 in support of the event. Altogether, you gave $10,000 during this year's spring campaign. 

Thank you for your dedicated support for the power of play!