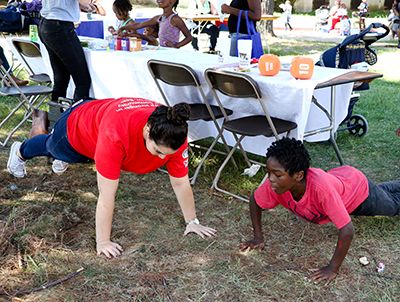 Penelope "Pennie" Theodorou joined Playtime as a Play Ranger in February 2017 when we launched programming at the Quality Inn overflow shelter on New York Avenue. She has been a dedicated volunteer ever since.
"Pennie has been a long-time, consistent volunteer who forms great bonds with the kids of Playtime," said Sarah Fraser, Site Manager at Quality Inn. "Even the preteens know her, despite the fact that she volunteers primarily on Monday nights with the younger ones, not during the preteen program! She's always ready to pitch in and help out, no matter what. One Monday, a kid threw up on her and she didn't even bat an eyelash."
Why did you initially get involved with Playtime?
I've been volunteering with children in crisis situations for the past 10 years in various locations including Arizona, Georgia, Guatemala, and Romania. My work professionally focuses on reducing early childhood toxic stress and promoting family resilience, so when my friend told me about Playtime, it seemed like a perfect opportunity to become more involved in D.C. and engage with a community in a way that I deeply care about. I went to the information session not knowing much about the organization and left fully in awe of the great work Playtime does.
How has volunteering with Playtime affected you?
Playtime has illustrated to me that you can't look at a child or family and assume their social situation. For example, when my sister was teaching at an elementary school, one of the kids at the shelter was a student in my sister's class. For the entire school year, my sister didn't know that child was experiencing homelessness, and I didn't know that the child was in my sister's classroom. Similarly, I work at a local hospital and will often see families from the shelter on our campus. Without knowing the families from Playtime, I would have no idea of their social circumstances. I think we need to start thinking in terms of "our children" instead of "my patient" or "your student," etc. It takes a village to support our most vulnerable families, and we need to work together. Playtime has shown me firsthand the power of play but also how the social determinants of health, homelessness being one of them, can impact other facets of life.
Can you share a memorable moment as a Play Ranger?
I have so many great memories from Playtime! Having been a volunteer for two-and-a-half years now, I've gotten to form really special bonds with the children. When I started, one little boy was a non-verbal 2-year-old and is now a talkative 4 1/2-year-old with a vibrant imagination! We often play dress up where he is a superhero and freezes me with his magic wand, and I have to get one of the other kids to unfreeze me or else I end up in jail. It's very cute! Similarly, there are several older kids who were 7 or 8 when I started volunteering and are now 9 or 10. They are too old for the Playtime session but I still get to see them at the shelter and hear about their lives. It's amazing to see how much they've grown in the past two years.
What else do you want people to know about your work with Playtime?
Kids and families are extremely resilient. Playtime creates a much needed safe, trauma-informed space for kids to have fun. The staff and other volunteers are extremely dedicated and truly go above and beyond to support families and children in D.C. I am so thankful to be part of this amazing community!