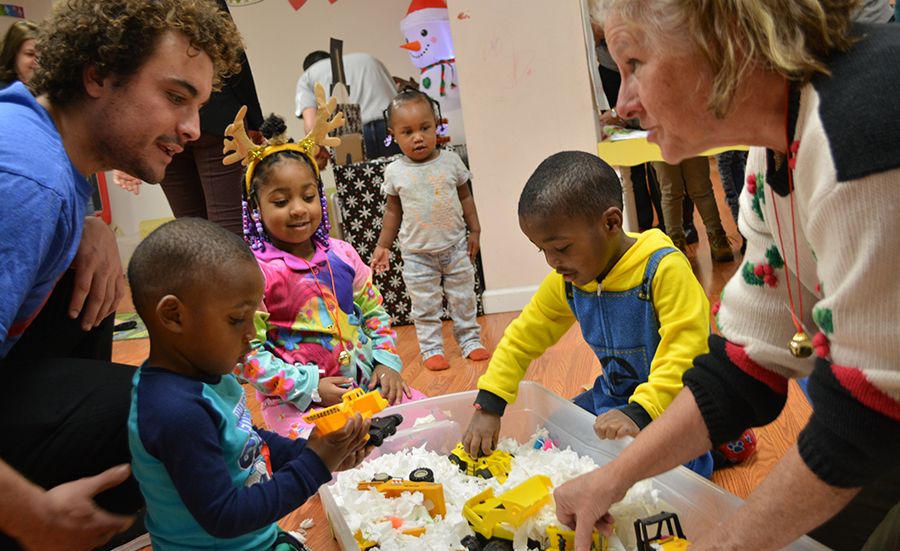 November was National Homelessness Awareness Month, and I was fortunate to be surrounded by 1,600 passionate professionals from 48 states, Puerto Rico and Guam, all committed to ensuring that children access the educational rights they deserve. The National Association for the Education of Homeless Children & Youth conference was held in D.C. last month to help people from across the country connect with best practices focused on setting up the nation's children to succeed.
During the three-day conference, I learned that when the McKinney-Vento Act was passed, less than half of students considered homeless were attending school. Education is widely considered the most important insurance policy for escaping homelessness, although we know homelessness places innumerable barriers to this American birthright. Most of the children we serve in the overflow shelter hotels, for example, can't easily get to school. Under this law, school districts nationwide are mandated to provide transportation, which is considered the chief barrier to educational access. 
After a lengthy consideration, the D.C. government will begin in January a two-to-three-month pilot shuttle service from the hotels along New York Avenue to the NOMA and Stadium Armory metro stations. While we applaud this step forward—this will make a huge difference for the more than 500 children still living in these shelter hotels—it's unfortunate this essential service wasn't established when the hotels became shelters years ago. 
At the conference, I attended inspiring workshops on "The Effect of Homelessness on Kids' Brains and What We Can Do About It," "Building Resilient Futures for Children," and "How Schools Can Be More Trauma Responsive." The overarching thread that ran through each workshop was the belief that to increase student achievement, you must increase relationships. We could not agree more! Relationships between the parents, children, Playtime staff and volunteers, and donors are the key ingredients that make Playtime magic happen. 
One school administrator from North Carolina recounted a story about a second grader who would shout, "I hate you!" She responded gently by saying, "Buddy, I'm sorry you feel that way but we love having you here." When his family became homeless again and he left the school, she found out where he transferred and sent a postcard to him there, not knowing if it would reach him, just saying they missed him and wished him a great rest of the school year. Three years later, he returned to her school as a beaming fifth grader. Bounding into her office, he smiled and said: "Hey, Ms. B., I got your postcard!" That simple act of care clearly made a huge impact on that child.
One speaker from Chapin Hall, an independent policy research center at the University of Chicago, asserted that the most common pathway to adult homelessness is youth homelessness, and I would add that the most common pathway to youth homelessness is family homelessness. 
Does anybody really believe that in the richest country in the world, we can't solve this problem? 
Around the country, children and families are considered the fastest growing segment of the homeless population. Although African Americans make up 13% of the U.S. population, they make up 40% of the homeless population, which is far higher than their rate of poverty (26%). Incredibly, black children under five are 29 times more likely than white children to end up in shelters. Indeed, nearly all the children Playtime serves are black, making a civil rights and equity lens essential to our work.
Collectively, we have the expertise and the heart, but what we need is the political will and the investments to end the trauma of homelessness that haunts one in 30 students in our country, and one in 15 students in Washington, D.C. 
As we look forward to spending the holidays with our families, it's an important time to recommit to doing all we can to help the children we serve be home for the holidays, too. 
Give now! Your gift helps play be a portal to ending family homelessness.