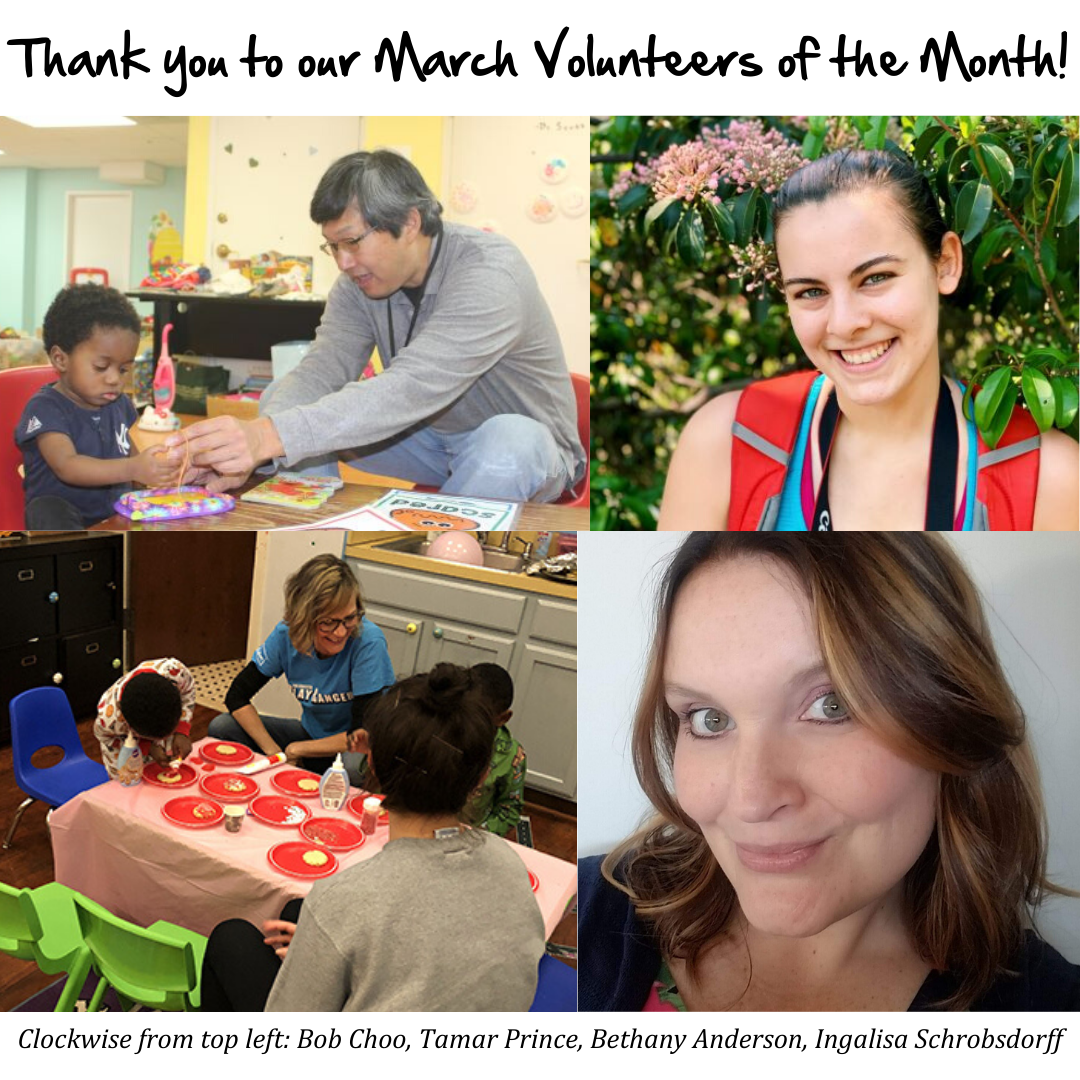 Starting this year, we've decided to begin recognizing one Play Ranger from each of our program sites as Volunteers of the Month (instead of recognizing just one volunteer each month from all our programs). With nearly 200 volunteers dedicating time to our weekly programs, we realized we just have too many awesome volunteers worthy of the title. So we got together and chatted about which volunteers have been complete rockstars in recent weeks and narrowed it down to one volunteer from each program.
Our March crew of Play Rangers are a stellar group of folks. They are all fairly new to Playtime as volunteers, but hit the ground running and made a huge impact right away. These volunteers have also come to Playtime in a variety of ways! One started out as donor who decided to take his support to the next level, while another was introduced to Playtime through work and decided to keep coming to Playtime off the clock. We're so grateful for all of our incredible volunteers, and a special shout-out to our four March Volunteers of the Month!
DASH Volunteer of the Month: Tamar Prince
Play Ranger since October 2019
Dream superpower: Flight
Though she's only been a Play Ranger for a short time, Tamar Prince has made a huge impact on our program at DASH. Her leadership and commitment to forming relationships with every child so impressed Site Manager Ron Sheffer that he wanted to recognize her as a March Volunteer of the Month.
"When Tamar first started volunteering as a Play Ranger, she was immediately focused on developing a relationship with the children. She committed to learning everyone's name and at least one fun fact," Ron said. "What I appreciate most about Tamar is her willingness to share her talents, whether it is coming up with an icebreaker, teaching a new game, or helping with homework. She is always super encouraging and works very hard at making sure the children have a positive experience."
Click here to read a Q&A with Tamar.
Days Inn Volunteer of the Month: Bethany Anderson
Play Ranger since October 2019
Dream superpower: Flight
Bethany Anderson first came to Playtime through her work as an ASL interpreter. During the 2018-2019 school year, she visited programs weekly, interpreting for two Playtime Project interns from Gallaudet University. Playtime stuck with her though, and in fall 2019, she decided to get back in the playroom, but this time as a volunteer Play Ranger. Playtime Program Associate Brieanna Iyomahan emphasized Bethany's flexibility, persistence, and compassion when she nominated Bethany as a Volunteer of the Month.
"She initiated being a one-on-one with a child who needed more direct and stimulating activities during Playtime," Brieanna said. "During this time she has really been flexible, understanding, and committed to building a bond with him and positively redirecting his high energy into productive activities like yoga, Lego set building, and other games."
Click here to read a Q&A with Bethany.
My Sister's Place Volunteer of the Month: Ingalisa Schrobsdorff
Play Ranger since January 2020
Dream superpower: Flight
Starting a new program from scratch is always an exciting time at Playtime, and it's made all the better when we have incredible volunteers like Ingalisa Schrobsdorff helping us get a program off the ground! Inga came on the Playtime just this year at our newest site, My Sister's Place, and Site Manager Madison Sampson shared that she's been an integral part of that program's start.
"She always brings great energy to the playroom and makes an effort to get to know all of the children. For our Valentine's Day party she went above and beyond to ensure our children had a great time. Not only did she spend time baking cookies for them to decorate, she also brought in various arts and crafts for them to create lovely valentines for their moms and teachers," Madison said. "While playing with the big kids, she also makes an effort to spend time in the baby room. Her kindness is felt by staff, fellow volunteers, and all the children. Last week when she walked into the baby room to drop off more cookies, a 2 year-old walked over and immediately fell asleep in her arms. We love having Inga at the MSP team!"
Keep reading for a Q&A with Inga.
Turning Point Volunteer of the Month: Bob Choo
Play Ranger since September 2019
Dream superpower: Time travel
Bob Choo started out as a Playtime donor, making monthly contributions starting in 2018. But in 2019, he decided it was time to take his support to the next level, and committed to becoming a weekly Play Ranger. Since then, he has been an incredible presence in the playroom; when she nominated him, Site Manager Sarah Fraser highlighted Bob's skill in facilitating activities with children, and how much she appreciates his feedback.
"Bob is awesome, works really well with kids, and is always facilitating games and aiding cooperative play," Sarah said. "He's also really vocal and attentive during debrief conversations, which is a really important time for our volunteers to share their observations, concerns, and celebrations of the children in our program."
Click here to read a Q&A with Bob.