Become a Play Ranger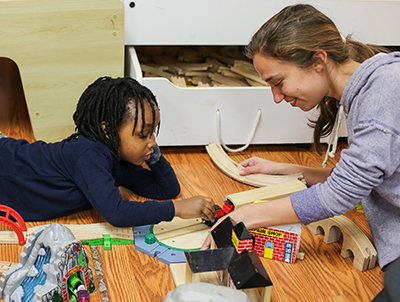 "I was looking to volunteer consistently at an organization that made a true impact—Playtime is a community, where we build relationships with kids along with their families. I have a blast volunteering. It's a great place to play and pretend you're a kid again. You can escape for a couple of hours and put some of life's pressures in perspective." 
— Tara, volunteer Play Ranger
Running our weekly programs wouldn't be possible without the tremendous commitment of our Playtime volunteers. Play Rangers interact firsthand with the children and youth we are fortunate to serve. They commit to two hours per week for at least three months in one of our play programs. This is a perfect opportunity if you're looking to make a meaningful and sustained difference in your community and in the life of a child.
Become a Play Ranger in just three easy steps:
1. Complete trainings

Our two volunteer onboarding trainings (Info Session: Part One and Play Ranger Orientation: Part Two) are designed to give you important context about family homelessness in D.C., introduce you to the mission and work of Playtime, and teach you the basics of trauma-informed care so you can make an impact as a volunteer right away! 

2. Submit application and background check

After you attend an Info Session, we'll send an email inviting you to complete our application and submit a background check.

3. Start Volunteering

Once all your materials have been received, we'll contact you with your placement, and you can begin volunteering. Yay!
Get started by signing up for our next Info Session: Part One.
Please note: At this time, we are only placing volunteers at our programs at the Days Inn, 2700 New York Ave NE, or our shelter partner in Southeast. Due to high volunteer interest, we are not placing new volunteers at our Northwest or other Northeast partner shelters. However, volunteers who attend training and get cleared to start will be at the top of our program wait lists!