Become a Play Ranger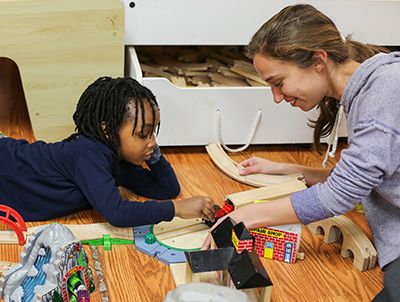 "I was looking to volunteer consistently at an organization that made a true impact—Playtime is a community, where we build relationships with kids along with their families. I have a blast volunteering. It's a great place to play and pretend you're a kid again. You can escape for a couple of hours and put some of life's pressures in perspective." 
— Tara, volunteer Play Ranger
Running our weekly programs wouldn't be possible without the tremendous commitment of our Playtime volunteers. Play Rangers interact firsthand with the children and youth we are fortunate to serve. They commit to two hours per week for at least three months in one of our play programs. This is a perfect opportunity if you're looking to make a meaningful and sustained difference in your community and in the life of a child.
Because of the need for consistency and relationship building in the lives of children in transition, Play Rangers are expected to make a two-hour weekly commitment for at least three months. (And we feel confident that once you get started, you'll want to stick around much longer!) We look for individuals who will take initiative in planning and leading arts and crafts projects, ball games, reading, games, and imaginary play activities for children of various ages. Play Ranger volunteers should also be comfortable setting appropriate boundaries to maintain order, safety, structure, and respect for others and Playtime rules.
To get started, sign up for one of the below New Play Ranger Training - Part 1 virtual sessions. You will receive training materials, Zoom details, and additional information before your session.