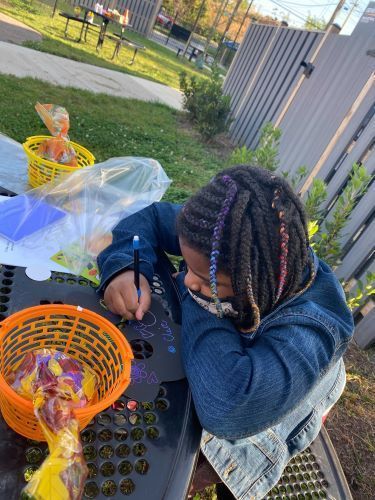 "Hanif," 9, talked about how good he is at basketball and baseball and how he wants to play on a team. "Ebony," 8, said her favorite days are when she can attend Playtime. While crafting bracelets as Christmas presents for her mom, "Christi," 12, talked about her art, the cool things she wants to try to create, and what she's best at making.
It's a joy to be back providing safe, socially distant in-person play activities for children living in D.C.'s shelters and hearing them talk about their dreams, accomplishments, and what makes them happy. While all of us have struggled these past eight months, children living in shelter have experienced tremendous isolation and hardship. For many, Playtime provided a consistent place to reduce stress, connect with others, and receive a healthy snack, and they've missed this twice weekly opportunity to play in a group setting.
We've been back at play since mid-September, and we're seeing children flourish—"Cindy," for example, during program before COVID-19, would sulk in a corner when she was upset, but over the past few weeks her social skills have improved so that she's more communicative and cooperative during play sessions. "Lisa" has become confident enough to teach painting to the others in her preteen group. And in our weekly Zoom group at one of our domestic violence shelter sites, preteens drew self- portraits and identified positive traits about themselves as they shared their creations.
Playtime believes it's critically important to provide a safe space for children and youth to share their thoughts and ideas and encourage them to dream big! Helping children develop a positive outlook for their future helps strengthen  self-esteem, increase their ability to do well in school, and ultimately end the cycle of homelessness.
During this time of COVID-19, help Playtime continue to provide opportunities for youth to envision a better future and expand our reach to more children in 2021. On this #GivingTuesday, we've set a goal to raise $20,000. You can help us reach this goal by giving a gift today.
Your ongoing support gives children like Hanif, Ebony, and Christi a supportive and safe space to play for the holidays and the year ahead. Thank you from the bottom of our hearts!