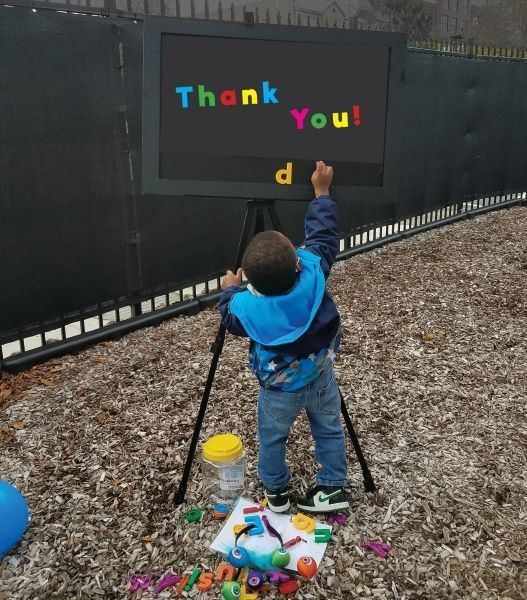 We survived 2020! A year that will forever be marked in history for the COVID-19 pandemic, the worldwide call for racial justice, and the rising awareness of economic inequity. A year that challenged all of us to find new ways to make connections and continue to serve those in need. Playtime survived 2020 because of you.
The outpouring of support from so many of you was both overwhelming and humbling. You allowed us to fulfill our mission in new ways: distributing Playtime to Go kits to children in shelters across the city; delivering emergency supplies for families, including diapers and food gift cards; providing back-to-school supplies, fall costumes, and personalized holiday gifts; and offering safe, outdoor play at two of our partner shelter sites.
I was especially moved by Dan and Jane Bucks, whose family spans the nation from Oregon to Maryland. They decided to forego giving individual gifts to adult family members and close friends and, instead, give what they called a community gift to a nonprofit. Upon the recommendation of Brian Bucks and Karen Pence of D.C., the family selected Playtime and sent a gift of $1,200. Another family in Missouri, whose son used to live in D.C. but now lives in Kenya, did the same, sending a collective holiday gift of $400. We also are grateful for the six donors who organized dozens of friends, family members, coworkers, and neighbors, mobilizing their communities to provide 172 children with holiday gifts.
I want to give a special thank you to author Rachel Renée Russell and illustrator Nikki Russell of the #1 New York Times best-selling book series for children, Dork Diaries. This dynamic mother-daughter duo provided a $25,000 matching grant during our spring campaign, and after discovering that we didn't quite make our #GivingTuesday goal, offered to make up the difference and contributed $5,000. This gift, along with an anonymous donor providing a match of $3,250, allowed us to surpass $20,000.
And to the hundreds of you who included Playtime in your family's end-of-year giving, thank you from the bottom of our hearts for helping us reach our 2020 goals!
Our 2021 plans will be focused on deepening and expanding our impact to ensure more children can safely access more opportunities for play, resources, learning, and growth in the new year, even as the pandemic rages on. We are energized by Dan Bucks' kind words: "Playtime is an innovative, creative, and practical organization that allows ordinary, individual citizens to participate in response to childhood trauma in our community, to contribute to the issue of childhood trauma."
Stay tuned for ongoing updates as we roll out new program plans. Thank you for your generosity, your inspiration, and your creativity as you support children experiencing family homelessness in our nation's capital.