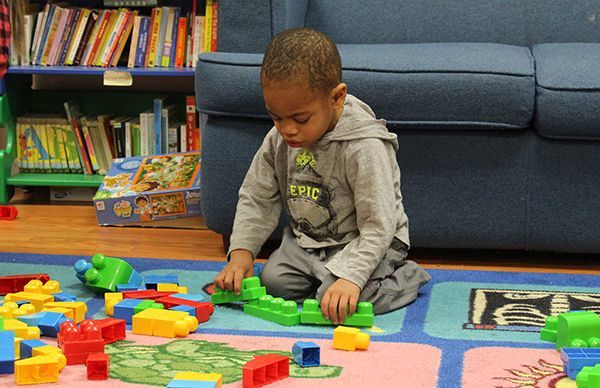 Every January, we look to the year ahead and consider how to enhance and expand our services to children and families experiencing homelessness.
This year, however, planning for what's ahead has been considerably more challenging.
As the nation continues to watch the fluctuating rates of COVID-19 cases, the city's homeless housing services continue to evolve from large congregate settings to small, short-term apartment-like sites, and with social distancing still in place, it's Playtime's mission to continue to bring play to children living in shelters, despite our access being greatly reduced.
Playtime's focus is always on how to better serve our children and families. With this in mind, we recently made the difficult decision to restructure at the management level, to ensure fiscal responsibility and continued support of our mission. We are replacing the deputy director and program director positions with a managing director position, to oversee on-site program staff and general organization operations. This means on February 12, we will say goodbye to Ivelina Benitez, who joined us last June as deputy director, and Tora Burns, who, started out as a site manager three years ago and advanced to program director. We greatly appreciate their passion and commitment on behalf of Playtime families and for their support during this transition.
While change is always difficult, we believe this new structure will allow Playtime to focus more resources on service delivery and increasing access to play. Playtime met its goals for new shelter site partners and number of children served in 2020, in spite of the pandemic, and we plan to expand access to play through at least two new sites in 2021. With a streamlined management structure, we will be able to hire program staff to support this growth. We hope to hire the managing director position by the end of this year's first quarter. We are confident that as the region gets the coronavirus under control, Playtime will be poised to quickly reach more children and families in crisis.
In the meantime, with the help of our amazing volunteers and donors, we continue to provide developmentally appropriate virtual play programming, and emergency supplies and resources as needed. We are distributing Playtime to Go kits this quarter, with the hope of returning to the playground, and possibly some playrooms, this spring—weather and safety permitting.
We appreciate your ongoing support as we navigate this new era in providing play and services to families living in the D.C. shelter system.