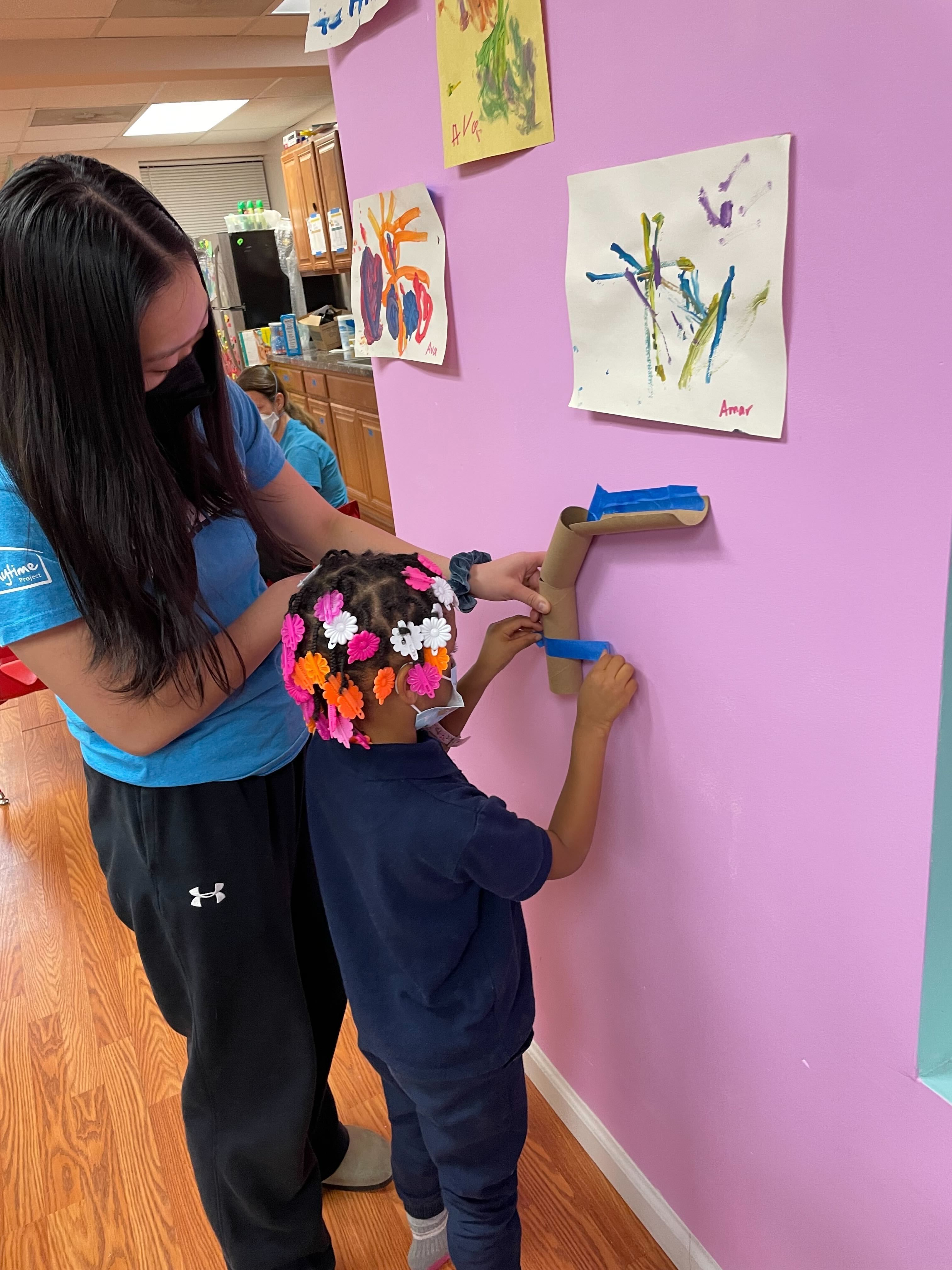 In 2019, Playtime's educators and social workers on staff created a curriculum geared towards strengthening three outcomes for children aligned with resilience: increasing their problem-solving skills, social-emotional learning skills, and optimism for the future. Our curriculum is a research-based, "living" framework that adapts to meet our children's needs. Let me introduce you to the person responsible for implementing Playtime's dynamic curriculum — Lan Nguyen, Playtime's curriculum and impact specialist.  
Lan's impressive background as a special educator positions her to customize our curriculum to help us measure outcomes. She holds a master's degree in curriculum and instruction for special education from Boston College and has over 10 years of experience as a special education teacher. Lan has taught in schools, hospitals, residential settings, and DMV area public schools.  
Lan credits her special education training with helping her understand how children learn and how to engage with them, which guides her approach to curriculum development. When she first stepped into one of our playrooms, she was inspired by the laughing, engaged children as well as those who were struggling. She loves the challenge of selecting Playtime activities that fit into the flow of Playtime. 
When developing Playtime's curriculum, Lan keeps several things in mind. First, she understands that a child's job is to learn through play. Her curriculum is designed to assist children in reaching cognitive milestones. Lan also aims to be intentional with the curriculum because she knows how important it is to make the most out of the children's time with Playtime. The children attending Playtime are facing housing instability, so there is always a possibility that they may not show up from week to week. This challenges Lan to be creative and find a way to package activities and lessons to stand alone, because a child may not attend Playtime again after a particular session. Additionally, the surge of COVID cases presented Lan with a new hurdle — finding ways to make the curriculum portable so that it could be distributed to families living in shelters that temporarily limited visitor access. "Playtime to Go" play kits were the answer, filled with curriculum activities and materials distributed to Playtime families. Parents are invited to scan a QR code to provide feedback on how their family engaged with the play kits!  
Playtime's curriculum has a theme each month and incorporates several ways for children to celebrate not only their cultures, but also the rich cultural heritage of D.C. Understanding that children learn differently, Lan takes a comprehensive approach to crafting the curriculum. Every month, Lan reviews national holidays and cultural observances and chooses fun new ways for our children to be introduced to new concepts. Since field trips are limited during the pandemic, it's especially important these activities are dynamic and hands-on for the children we serve. 
For example, Playtime's February curriculum focuses on Black History Month and women and girls in science. Curriculum activities for the month include a self-portrait that echoes Dr. Martin Luther King, Jr.'s "I Have a Dream" speech, inviting children to highlight and celebrate themselves; and a rocket launcher activity that highlights Dr. Mae Jemison, the first black woman astronaut. Nurturing a sense of optimism is important for children to be able to see themselves beyond the confines of a shelter. 
Lan is not only excited about February's curriculum, but she is also excited to be a part of the Playtime team and feels good knowing that her skills are contributing to something meaningful. She is thankful for the opportunity to be creative and create memorable and impactful experiences for our children. The feeling of gratitude is mutual, as Playtime is grateful for Lan's passion, expertise, and contributions to our overall mission to cultivate resilience in children experiencing family homelessness.