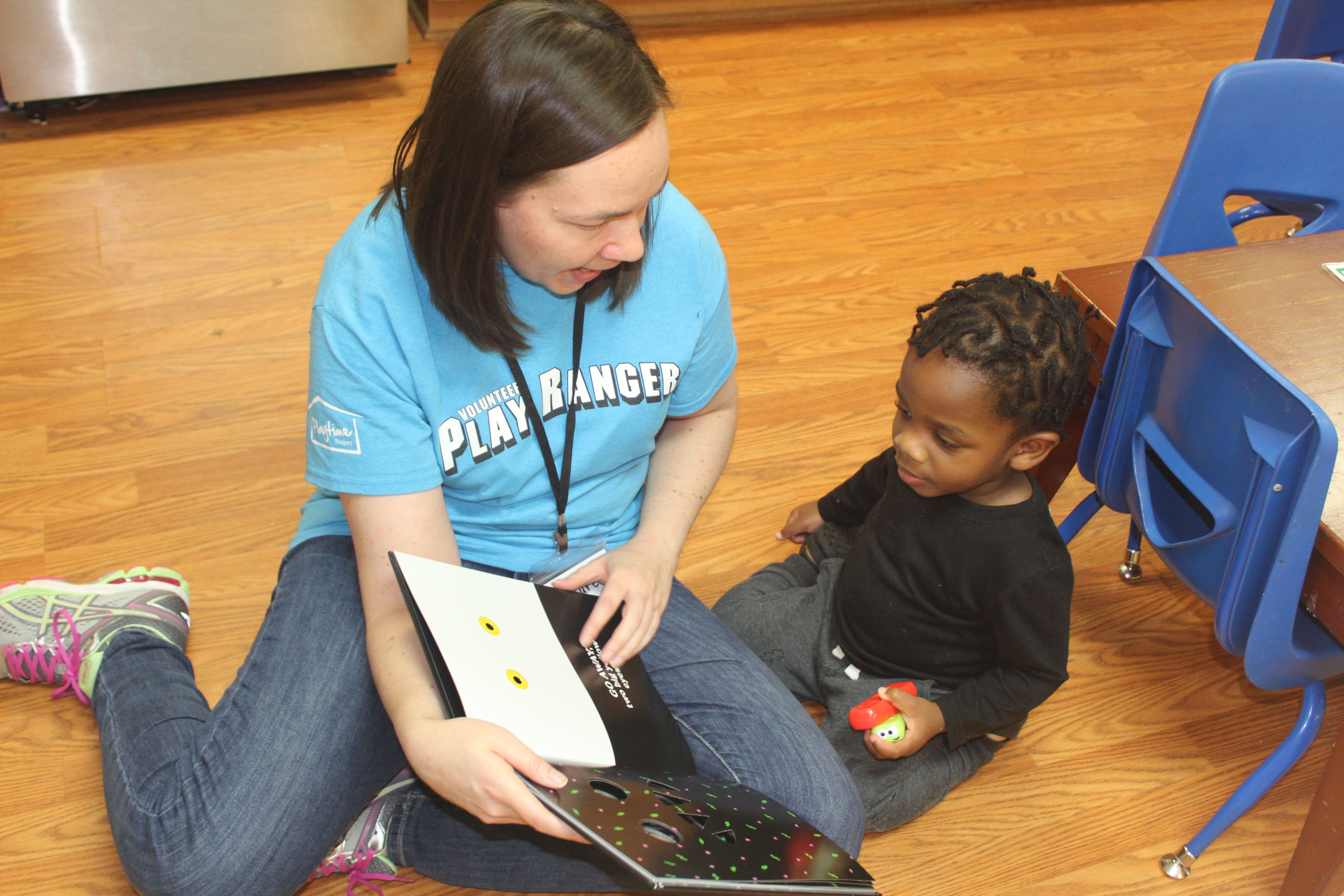 Every month here at Playtime, we spend some time chatting over the most incredible things our volunteers have done that month, the ways they've gone above and beyond the call of duty, and who truly epitomizes the term "hero of play." Then, we pick a Volunteer of the Month for each of our programs. So, without further ado, let us introduce our DASH Volunteer of the Month!
Meet Lauren Waterhouse, our February 2020 DASH Volunteer of the Month!
Lauren Waterhouse has been a Play Ranger for nearly 10 years, and stepped up into the leadership role of Volunteer Site Coordinator for many of those years. She's a source of comfort and stability for so many children at Playtime, and is someone the staff knows they can rely on in challenging times. When he nominated her to be volunteer of the month, Site Manager Ron Sheffer expressed that Lauren has been integral in providing stability at DASH through staffing transitions.
"Lauren is really an incredible volunteer who I can always rely on at DASH," Ron said. "When I took over the program there last spring, I felt comfortable knowing Lauren knew all the children and volunteers, and could be that steady hand there."
Keep reading for a brief Q&A with Lauren about her time as a Play Ranger.
---
We get to help create positive memories in what is otherwise a low point in their lives, and that's something I'm proud to be a part of.
-Playtime Volunteer of the Month Lauren Waterhouse
---
When and why did you start volunteering with Playtime?
I started volunteering almost 10 years ago when I moved to a new neighborhood and was looking for ways to get more involved. A quick Google search of "volunteer kids D.C." brought me to Playtime, and it was exactly what I was looking for.
How has volunteering with Playtime affected you?
In so many ways! I mostly volunteer with babies and toddlers so I've learned a ton about child development and gained the (not very useful) skill of being able to accurately guess the age of most small children I meet. More importantly, I've gained a truer picture of the city and all of the obstacles families face as they try to raise their children here. Policies related to housing and poverty that used to seem abstract to me are now things I pay attention to because they have a direct impact on children and families I care about.
Can you share a memorable moment you've had as a Play Ranger?
Most of my favorite moments are the little breakthroughs that happen every week, like a baby smiling as he learns to clap or a child expressing her feelings with words rather than throwing something in frustration. Once when I asked a five or six year old to help me clean up the toys we had been playing with so we could have snack, he paused and said very seriously, "Miss Lauren, you're old enough to clean that up by yourself." I couldn't help but laugh because he wasn't wrong and I imagine his mom had said that to him a time or two!
Is there anything else you want people to know about your work with Playtime?
I recently ran into a mom whose child was in our program back when I first started volunteering. Her face lit up talking about Playtime, and she said she still has pictures on her phone of her child at Playtime and with the volunteers. The families we serve get told "no" a lot and are constantly having to jump though hoops to get the services they need. The genuine kindness and support families get from Playtime staff and volunteers is uncommon and something they remember years later. We get to help create positive memories in what is otherwise a low point in their lives, and that's something I'm proud to be a part of.
Read more about how you can become a Play Ranger like Lauren here.