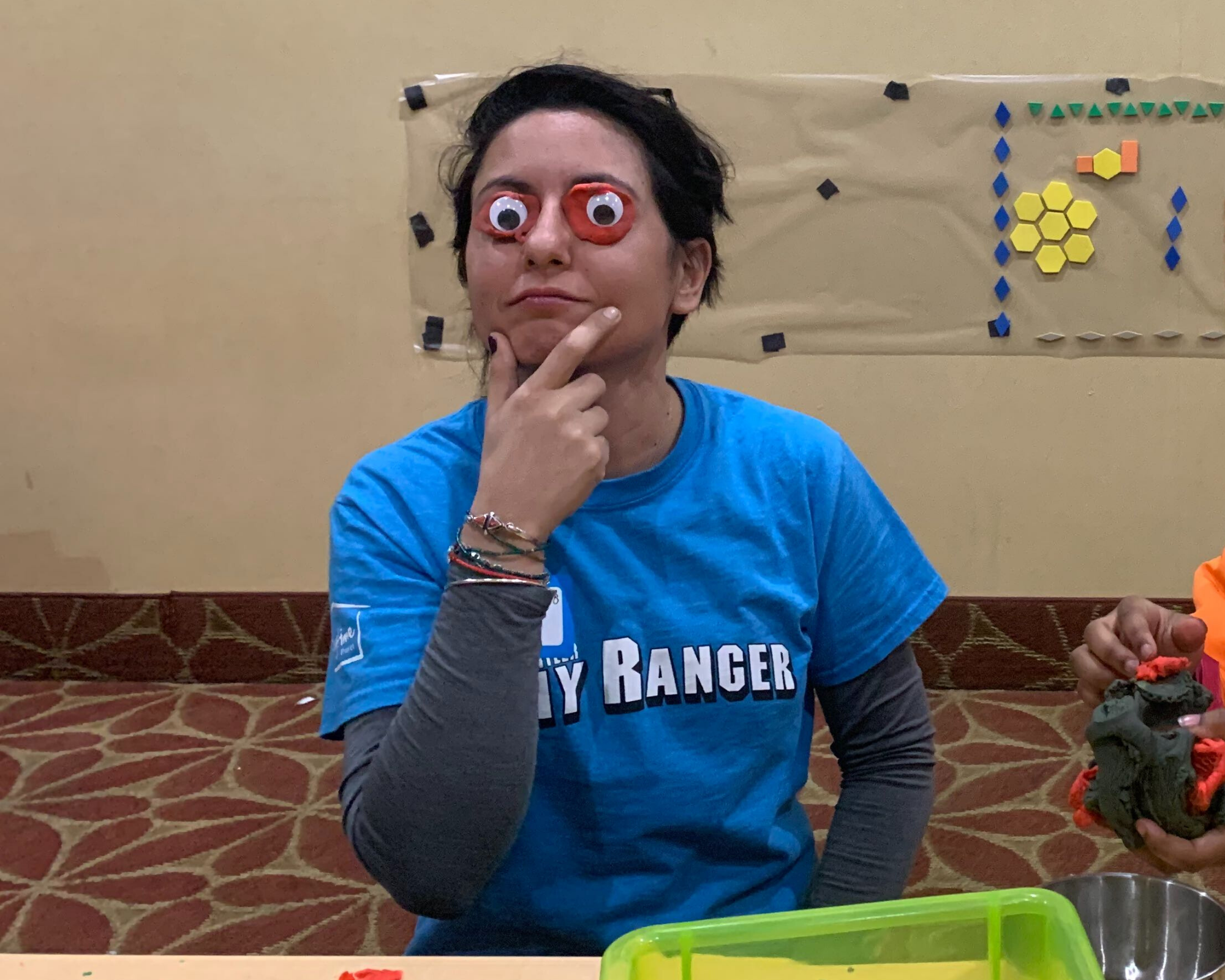 Every month here at Playtime, we spend some time chatting over the most incredible things our volunteers have done that month, the ways they've gone above and beyond the call of duty, and who truly epitomizes the term "hero of play." Then, we pick a Volunteer of the Month for each of our programs. So, without further ado, let us introduce our Days Inn Volunteer of the Month!
Meet Maïssa Khattab, our February 2020 Days Inn Volunteer of the Month!
Maïssa Khattab just finished her first full year as a Play Ranger, and she's been a stellar volunteer since day one! She never hesitates to jump in and help where she can, and always looks for ways to show children one-on-one support when they need it. When Program Associate Brieanna Iyomahan nominated Maïssa to be Volunteer of the Month, she shared a story about one particular time Maïssa worked to know a child could always look to her for support.
"Right before the holiday break, Maïssa spent time making a specific craft for one of our preteens who was really upset. It really helped that girl feel like someone was thinking about her and like she could rely on her," Brieanna said.
Keep reading for a Q&A with Maïssa below.
---
Spending time with the Playtime children is one of the very few times where I really stay present in the moment and don't think of anything else.
-Playtime Volunteer of the Month Maïssa Khattab
---
When did you start volunteering with Playtime?
Approximately January 2019, so a year ago now!
How has volunteering with Playtime affected you?
One of the reasons I found and joined Playtime was finding a way to facilitate my day-to-day life with clinical depression. I have always enjoyed the company of children and knew it could only improve my mood, and it has indeed! Spending time with the Playtime children is one of the very few times where I really stay present in the moment and don't think of anything else. Going regularly has helped me tremendously and it has really become a weekly highlight that allows me to get away from the daily grind and recenter myself. 
Can you share a memorable moment you've had as a Play Ranger?
The first thing that comes to mind is our day trip to a water park last fall. I just loved to see how much fun everyone was having. Since it was my first outing with Playtime, I didn't know what to expect but I was somewhat apprehensive. I didn't need to worry as the day went off (almost) without a hitch, thanks to the kids behaving really well, all the other volunteers striking the same balance of safety and fun throughout the day, and having some of the kids' parents also there to help out, and have fun!
I said "almost without a hitch" though, because I did have a little hiccup here and there (I'm only human after all), but looking back it only makes the day even more fun to remember! 
Is there anything else you want people to know about your work with Playtime?
Really, just how much it's as much for us as it is for the kids. I've learned so much about how to interact with children of various ages, especially those in difficult circumstances thanks to the training we get, and it has also taught me a lot about the housing crisis in D.C. - it feels much more personal to me now so I always try to be aware of this issue either in the news or through the D.C. government policies and so on. Finally, as an Egyptian I felt it also gave me a very important window into a side of the United States we never hear about abroad, so I'm very grateful to Playtime for helping me truly become part of the community.