Katie Waldo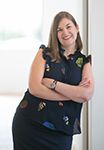 Katie Waldo started volunteering at age 5 and decided it would be her superpower. She's an active volunteer around Washington, D.C., where she and her husband have called home since moving here to work for the Obama administration in 2008. Katie has volunteered as a weekly Play Ranger for the Homeless Children's Playtime Project since 2017.
When not volunteering, she serves as Head of Community Impact at We The Action, where she manages over 11,000 volunteer lawyers, who serve nonprofit organizations around the country on issues from protecting voting rights to reuniting families separated at the border. Before joining We The Action, she served as White House Trip Manager, traveling the world with President Obama. In his first term, Katie was a photo editor for White House photographer, Pete Souza. During Obama's 2008 campaign, she served as an operations director in multiple battleground states.
Katie earned a B.A from Creighton University where she had the opportunity to study and volunteer in El Salvador and the Dominican Republic.