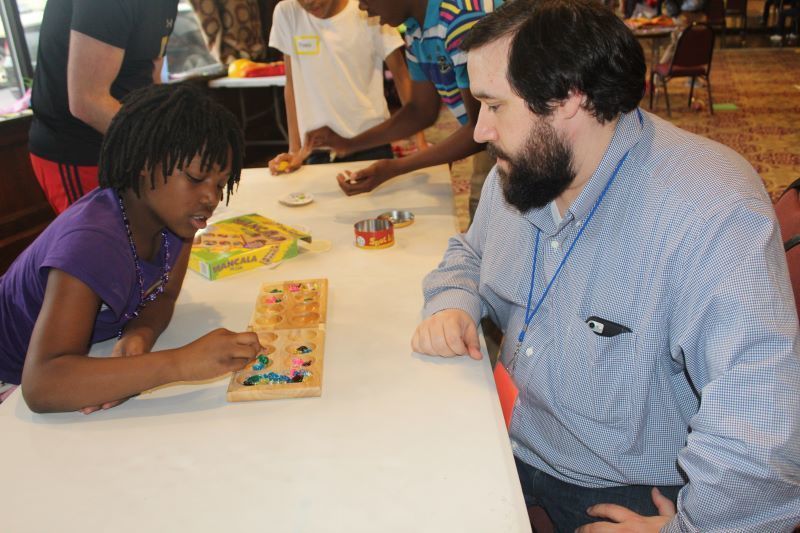 Photo: Jason Wucinski plays a game with one of the preteens when he volunteered at Quality Inn.
When Playtime launched our program at Shepherd's Cove Shelter for Women and Children in Prince George's County last month, I was thrilled to see two volunteers who have been with us a long time: Lauren Conley and Michele Smith. We practically did a "happy dance" for being reunited to facilitate in-person play for a brand new community of children.
Lauren, a children's reading specialist, joined the Playtime team in December 2011, volunteering at D.C. General when we were there. Michele worked at the Children's Defense Fund when she began volunteering in December 2014 at our partner site, DASH (District Alliance for Safe Housing), where we've been serving children since 2010.
Michele says she keeps coming back for "the endless joy and fulfillment from showing up, being present, and making connections with the kiddos each week!"
Playtime was started as an all-volunteer organization in 2003, and we continue to attract dedicated volunteers every year. Last year, of course, offered fewer opportunities for them to engage with the children, but many created videos and joined our live Zoom sessions.
Returning to in-person play this spring was a joy not only to us but to many of our volunteers, whose commitment is deeply appreciated. Because of them, we are bringing play to more children at six partner sites across the District and Prince George's County. It is particularly heartwarming to see so many volunteers come back year after year.
"I had been counting the days until we could return to Playtime," said Perry Oddo, who became a Play Ranger in September 2017. He started with the preteen program at D.C. General, then moved to the Quality Inn overflow shelter and is now at My Sister's Place.
"Like many others, my last year had been fraught with fear, uncertainty, and routine," Perry said. "But being able to step back on the playground and see the kids again has honestly been the perfect antidote to all that isolation. The excitement and energy they bring on a weekly basis is also a good reminder that they've needed a chance to let loose as much as we have. I'm thrilled to be back on site and am looking forward to a much needed summer of play!"
For Jason Wucinski, his desire to be a Play Ranger for the past seven years comes from his personal experience with poverty and homelessness as a child. "I can, to some extent, empathize with the fear, shame, and uncertainty these kids may, unfairly, be dealing with," he said. "Looking back, I wish a program like this existed for me and my siblings, when I was growing up."
Jason started with Playtime in September 2014 and has served at several different sites currently at My Sister's Place and DASH. His motivation is simply to help make a positive change in the children's lives. "It is because of the kids we work with, and the amazing staff and volunteers, that I remain committed to continuing my volunteer work with Playtime!"
We have several long-time volunteers who are helping us relaunch our in-person programs this year, including Pam Frasier, Mieyah Timmons, Cortney Whitlow, Justine Davenport, and Darrell Burris to name a few. Our longest-serving volunteer is Tresa Schlecht, who began when Playtime was at DC Village 17 years ago. Newly retired, she stays involved by driving to Costco every month to purchase and pack healthy snacks for the children.
I am so grateful to every person who makes time to support Playtime families, whether they engage children in the playroom/playground as a Play Ranger, help us make deliveries to our partner sites as Volunteers in Motion, or provide administrative assistance in the office, such as organizing supplies and stuffing envelopes.
Playtime has always relied on its volunteers, and it's an amazing feeling that as the organization grows and evolves, we can count on their continued dedication. Thank you!