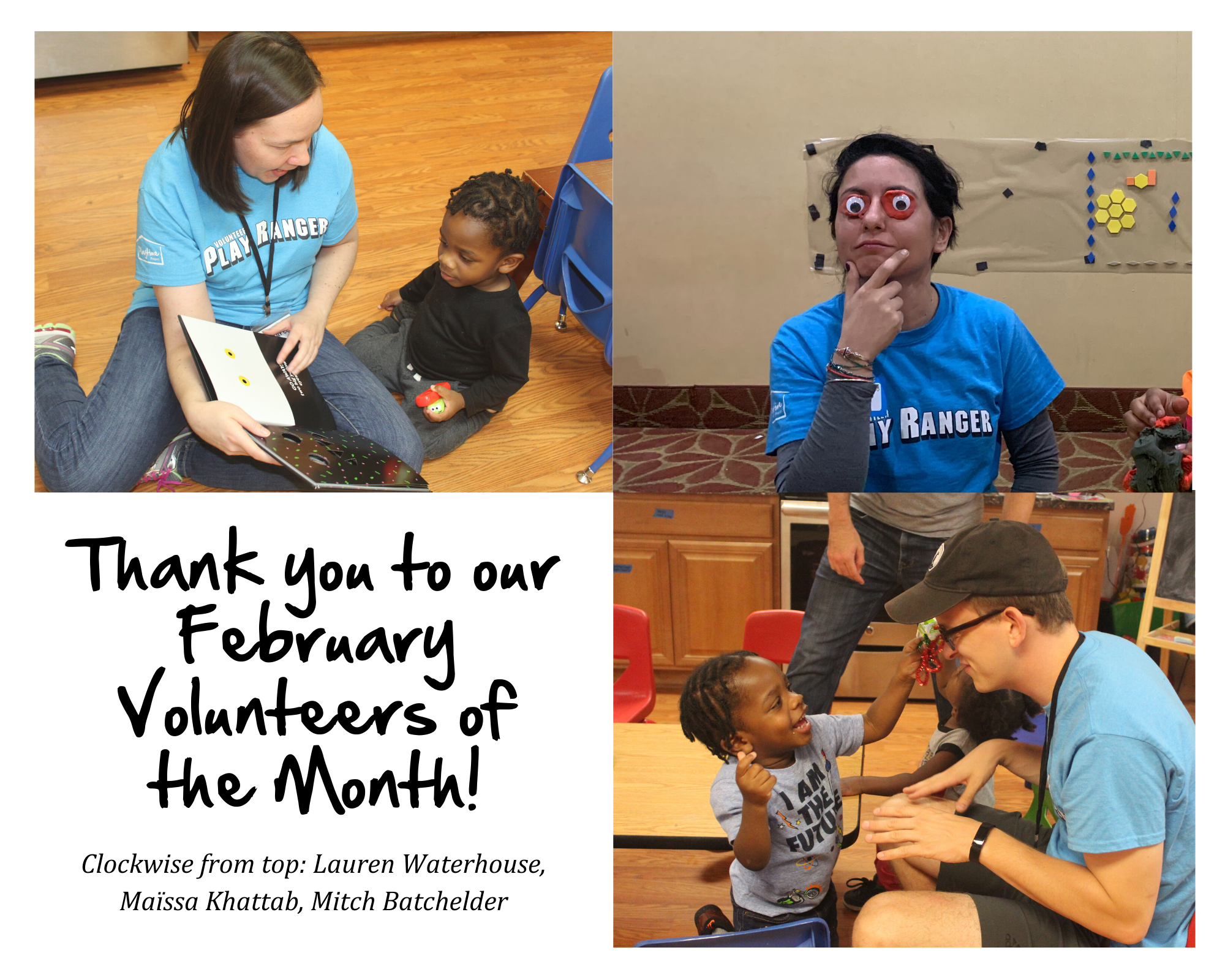 Starting this year, we've decided to begin recognizing one Play Ranger from each of our program sites as Volunteers of the Month (instead of recognizing just one volunteer each month from all our programs). With nearly 200 volunteers dedicating time to our weekly programs, we realized we just have too many awesome volunteers worthy of the title. So we got together and chatted about which volunteers have been complete rockstars in recent weeks and narrowed it down to one volunteer from each program.
Our February Volunteers of the Month are an incredible crew of highly motivated, compassionate individuals who go above and beyond the call of duty every week. Whether they've been with us for 10 years or one year, these volunteers epitomize the empathetic, dedicated spirit of Play Rangers, and we're so proud to have them on our team!
DASH Volunteer of the Month: Lauren Waterhouse
Play Ranger since March 2010
Lauren Waterhouse has been a Play Ranger for nearly 10 years, and stepped up into the leadership role of Volunteer Site Coordinator for many of those years. She's a source of comfort and stability for so many children at Playtime, and is someone the staff knows they can rely on in challenging times. When he nominated her to be volunteer of the month, Site Manager Ron Sheffer expressed that Lauren has been integral in providing stability at DASH through staffing transitions.
"Lauren is really an incredible volunteer who I can always rely on at DASH," Ron said. "When I took over the program there last spring, I felt comfortable knowing Lauren knew all the children and volunteers, and could be that steady hand there."
Days Inn Volunteer of the Month: Maissa Khattab 
Play Ranger since January 2019
Maïssa Khattab just finished her first full year as a Play Ranger, and she's been a stellar volunteer since day one! She never hesitates to jump in and help where she can, and always looks for ways to show children one-on-one support when they need it. When Program Associate Brieanna Iyomahan nominated Maïssa to be Volunteer of the Month, she shared a story about one particular time Maïssa worked to know a child could always look to her for support.
"Right before the holiday break, Maïssa spent time making a specific craft for one of our preteens who was really upset. It really helped that girl feel like someone was thinking about her and like she could rely on her," Brieanna said.
Turning Point Volunteer of the Month: Mitch Batchelder
Play Ranger since April 2018
Our Turning Point Volunteer of the Month for February is Mitch Batchelder, who's been a Play Ranger for nearly two years and continually brings a patient, compassionate spirit to our playroom.
"Mitch is one of our most consistent volunteers, and he really has a special knack for stepping up to help some of the children who need a little more focused support," Site Manager Sarah Fraser said when she nominated Mitch to be a volunteer of the month. "We're so lucky to have him as a volunteer!"